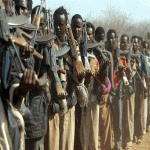 Since there is no "free" radio in Ethiopia and the penalties for establishing Pirate shortwave radio stations are particularly high, I have been able to find few Ethiopian examples of traditional "freedom fighter" radio, such as El Salvador's legendary Radio Venceremos. Several Ethiopians told me that there were illegal radio stations that had started transmitting in Addis around the time of the 2005 elections. But my researcher could find little evidence to support these claims… and there were certainly no audio examples…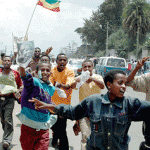 What's probably more interesting is that the internet has apparently provided an effective, 21st century alternative. Admittedly the ability of the internet is limited in terms of reaching ordinary Ethiopians as there are only about 8 Internet users per 10 000 inhabitants.
But… there are several examples of anti-government propaganda making its way into the heart of the country via long range radio – or by streaming on-line feeds – or by downloadable packets of information.
There are currently 12 regular long range radio stations, as well as on-line stations producing anti-government audio, as listed on the Clandestine radio website. ClandestineRadio.com
This entry discusses some of the new ways that free speech radio is finding its way into Ethiopia.
One of the anti-government groups utilizing new methods of radio distribution include The Oromo Liberation Front (OLF). A political organization established in 1973 by Oromo nationalists to lead the national liberation struggle of the Oromo people against the Abyssinian colonial rule. OLF's commitment to this objective is based on a democratic principle, "that the Oromo people are endowed with the right to decide the type of sovereignty they want to live under and the type of political union they want to form with other peoples."
These websites are sophisticated – funded by donations which can be made on-line with your credit card and are often based in Germany or America. What's also interesting is that these online pirate stations offer the change to post messages. Some examples of these messages can be found on "Nazret.com" the Ethiopian online News Portal.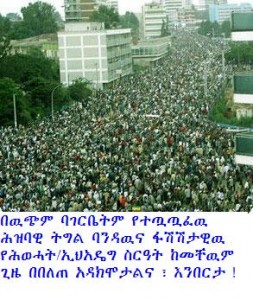 So are things going to improve in the future? Censorship has recently taken on a new supposed adversary. The Ethiopian Govt clearly views the internet as a threat, as earlier this year the Ethiopian Telecommunication Agency started distributing forms for Internet cafes in the country to register internet users. Sources said that the agency in collaboration with the Federal Police is disbursing the letter to all cyber cafes in Addis Ababa and other major towns.
The form requests the internet user's ID, full name and residential address. Users will be registered and police officials would collect the form for identification. If an internet café is found giving service to unregistered customers, the owners would be jailed for violation of the regulation with severe punishment.
But on a more hopeful note, a new Broadcasting Bill by the Ethiopian House of Representatives seems to be an interesting and perhaps hopeful sign. Part Three of this Proclamation sets out a legal basis on which private commercial radio and television can be licensed.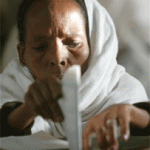 The Bill of Broadcasting may bring the introduction of truly free (and no doubt closely monitored) radio nearer to reality.
This will be an enormous challenge for the media development in Ethiopia.
As mentioned previously, two independent radio frequencies have been awarded but, at the time of writing, these have not yet started broadcasting.
I'm cautiously optimistic that these new stations represent the beginning of a brighter future for Ethiopian radio broadcasting – which will ultimately encourage free speech and independent journalism to florish.
This clip features clips of Ethiopian anti-government propaganda broadcast via streaming on-line organisations. Recorded 2007.
« Part Two: Creative Writing Skills / Research Development Radio in Ethiopia »