This is another post examing the important role of student radio in Africa. In this clip Professor Ralph Akinfeleye from the University of Lagos, Nigeria, dicusses student station Unilag 103.1 FM, their Mass Communication course, and the influence of Government in the evolution of Nigerian Broadcasting.
This interview was recorded in July 2010 and features members of the Mass Communications teaching staff – as well as members of Radio Unilag 103.1 FM – which was the first University Radio Station in Nigeria. There's also a short section taken from an on-air interview with yours truly…
(How exciting!)


The station was established to provide new experiences for students and to increase the educational opportunities for the wider community.
Unilag FM first began broadcasting in 2004, and it's mission objective is to;
"Expand the frontiers of knowledge…"
The University of Lagos – popularly known as Unilag – is a federal government university and was founded in 1962. It's made up of two campuses, the main campus at Akoka, Yaba and the College of Medicine in Idi-Araba, Surulere. Both sites are in the Mainland of Lagos. The main campus is largely surrounded by the Lagos lagoon and is located on 802 acres (3.25 km2) of land in Akoka, North Eastern part of Yaba, Lagos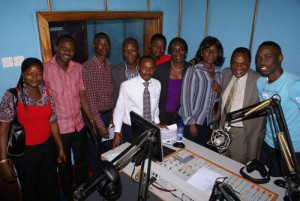 Special thanks to Professor Ralph Akinfeleye and the staff of the Mass Comm Dept. for all their assistance
« Sth Africa: VOW Radio 90.5, Student Radio Nigeria: Austeen Elewodalu, Voice of Nigeria (VON) »