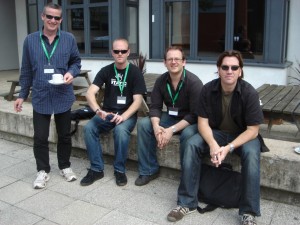 On Monday morning I'll be driving to Lincoln University for the Transnational Radio Forum. A four day conference which gathers radio academics from around the world. I've been looking forward to it – but it'll be a relief to finally get my presentation out of the way so I relax and enjoy meeting some fellow radio lecturers. I'll be giving a presentation entitled "The Hardest Sell: Spot production in developing nations".
Most people turn off when the commercials come on, so I hope they'll stay tuned for my few short messages. I've decided to start by defending the honour of your everyday humble commercial.
Commercials are much maligned – but they are of course the engine room of any commercial radio station. It's assumed that most people hate advertising but the truth is people don't dislike advertising – they dislike BAD advertising. When a message is well targeted, when it speaks the language of its intended audience and when it tells them something of genuine interest in an informative, non-patronising manner – then everyone wins. The listener is entertained – the client gets their message across – and the station keeps its audience.


To add some weight to the presentation, I'll discuss the work of Charles Hamilton alongside some of my own observations. Charles has become a bit of a legend in the world of Development Radio. He's the "Indiana Jones" of spot production, last seen hacking his way through the jungles of Cambodia, working as an Executive Producer of Radio for the BBC WST. He has been with the BBC for 19 years and is regarded as a true expert in the field. He kindly sent me some of his thoughts on Spot Production which I've incorporated into my presentation.

What particularly interested me with his Spot Production guidelines were the similarities between them and the principles I'd learnt as a commercial producer in the western radio industry. It would seem that whether you're selling new fridge-freezer or you're trying to get young Ethiopian to wear a condom, the principles are intrinsically one and the same.
Fundamentally, he believes that if you want a spot to effectively deliver a simple message to a large audience, it needs to be done in an entertaining way. To have maximum impact it must be focused – "one message and repeated many times". This is pretty much the same doctrine as the advertising industries "U.S.P." concept of commercial production. Find the unique selling proposition then hammer it home time and time again.
Charles comes from a non-commercial background, so in an attempt to provide some balance I've decided to play audio clips taken from an interview I conducted with Tony Hertz.
Tony is an award winning radio copywriter and director with an illustrious career spanning more than 30 years. In that time he was Creative Director for renowned advertising agency McCann-Erickson in Tokyo, Brussels and Birmingham. He currently runs his own radio production company called "Hertz ; Radio" and is in demand around the world for his presentations about commercial creativity. Last year he generously agreed to be a guest lecturer for UCE's "Commercial Production For Radio" module. 
Tony had some interesting things to say about the ability of radio spots to deliver educational messages and the radio conference seemed like a logical forum to share some of his opinions.
It also seemed like a good opportunity to "launch" this website (R4D) during the presentation. No dry ice or dancing girls I'm afraid, but I'll use a few screen shots to provide a basic demonstration – and finally get things off the starting block…