Douglas Farnkalo / BCU Press Release;
During the Christmas holidays of 2008, I travelled to Liberia in order research my BCU dissertation in media and communicattion – and to be reunited with family members whom I have not seen for 13 years. During my visit, I presented some professional marantz recorders I recieved from the Birmingham School of Media to the Press Union of Liberia.
Please find details of the story in the following Press release:
"A Liberian journalist residing in the UK has donated four tape recorders to the Press Union of Liberia (PUL), for the use of the electronic media in the country.
Journalist Douglas Farnkalo, a former Radio Announcer of ELCM Radio, said the gesture was made possible from a request he made to the authority of the Birmingham City University in the UK where he is studying as a student of communication.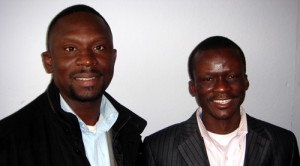 Douglas Farnkalo (left) and Peter Quaqu

The Liberian journalist who has been away for the past 13 years, said as a third year student of the university, he decided to make the request to the university to provide equipment assistance to the Liberian media since according to him, there were lots of equipment available but one just had to make a genuine request.
He said, as someone who always had the objective of putting his country first in all his interaction, he decided to take advantage of the opportunity to request for the items since the university has lots of equipment that it's not using.
Farnkalo commented that journalists in the country were trying to "up-grade" their skills – but quickly cautioned journalists to adhere to the principles of reporting the truth and avoid biases. He said there would be no true society in the absence of a vibrant media and therefore, the media must see itself as an institution that had the potential to change society.
Responding, PUL President, Peter Quaqua, commended journalist Farnkalo for the gesture.
He also thanked Birmingham City University for the gesture and expressed hope that more items would be shipped to the Union in not too distance future.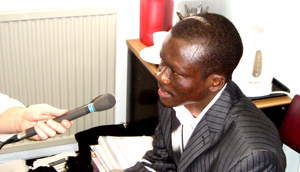 PUL President, Peter Quaqua
Mr. Quaqua sais that he would prioritize the interest of the community radio stations in the distribution of the recorders and urged Mr. Farnkalo to consider the interest of the print media as he goes about making his request for more items.
The PUL president later commissioned journalist Farnkalo as an ambassador of the Union in the solicitation of further assistance from where he is based."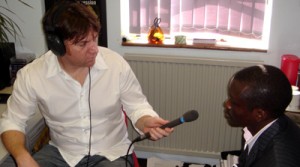 Peter Quaqua and Sam Coley in Studio Four of BCU's Radio Department, Perry Barr, Birmingham UK.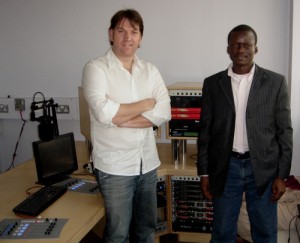 « African Radio Listeners & Field Recording Pic Gallery Ethiopian Pharmaceutical / Health Billboards »