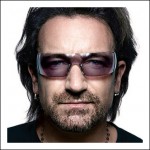 I opened yesterday's (13.5.10) Guardian newspaper to find another bout of Bono-bashing – this time slagging off his skills as a financial analist.
I'll come clean straight off – and confess to being a U2 fan (even 'though John Peel loathed them).
I grew up with U2 and saw them as "my band" – distinct from my older brothers musical tastes. Although they may have strayed from the path from time to time –they least managed to stick around in their original form (a miracle of inter-band relations) and still produce some interesting tracks.
But back to the bashing… I've been meaning to conclude this series of postings about celebrity / aid with a reference to St. Bono – and reading the Guardian article prompted me to get around to it.
Bono was supporting development long before the UN began scouting the pages of "Heat" Magazine for good-will ambassadors.
Of course there's been a long history of celebs promoting worthy causes – such as Audrey Hepburn raising awareness for UNICE, as far back as the '50's… But new territory is being broken by today's celebrities – thanks to instantaneous online and mobile conduits like Twitter and Youtube.
Bono has often compared himself to a "salesman"… Selling an idea… In that respect it's conceivable that he sees his role as an international aid ambassador in much the same way. Selling the idea of debt reduction – or hunger relief. He's certainly got a snappy way with words, and a knack of cutting to the chase;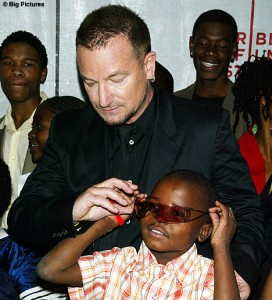 "The fact is that this generation – yours, my generation … we're the first generation that can look at poverty and disease, look across the ocean to Africa and say with a straight face, we can be the first to end this sort of stupid extreme poverty, where in the world of plenty, a child can die for lack of food in its belly."
I guess it's understandable that he's often seen as some kind of messianic do-gooder…
He certainly makes it easy for his critics – hanging out up with W. Bush, the Pope etc. were sure fire ways to piss people off.
But – who else is going to do it? The issues he draws attention to are without doubt honourable.
You can't doubt his perseverance. He gets it in the neck from all sides – the critics dislike his aid work – and even his own band have their doubts.
The other members of U2 have admitted Bono's crusading nature can on occasion cause friction.
"It does interfere with the band," Larry Mullen has confessed.
"It's a four-legged table, and with one leg missing, even for short periods of time, the thing becomes a little unstable." The Edge also revealed that he had an argument with Bono to try to stop him from meeting George W Bush. Edge revealed: "I said: 'Bono, please, you seriously don't want to meet George Bush, do you?' He just laughed and said: 'Edge, I'd meet anybody if he'll support this cause.'"
Sunday Mirror, May 18, 2003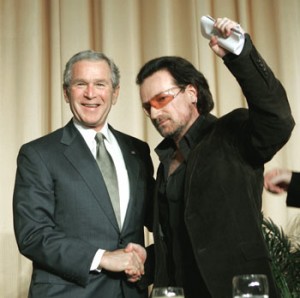 The suspicion with which the rest of U2 view the lead singer's extra-curicular activities has been well documented.
It clearly has a negative impact on their rock "cred" – and Bono must be aware of this. Even so – he continues to devote huge chunks of his life to the causes that mean most to him.
It'd be great if he didn't have to do it – and our media reported on development issues without their insistence on a celebrity "angle" or a disaster story reaching a required body-count to merit running.
I'm sure he'd much rather be sharing a spliff with Adam on a couch down the back of the studio, but he still chooses to suffer the slings and arrows.
His opponents have used the classic pincer military maneuver to attack on two fronts – one; his aid work and two; his financial choices. These more recent criticisms of U2's tax returns are of course worthy of discussion given their massive incomes – but seem a little mean spirited to me. What? He hasn't paid his fair share of tax over the years? Hasn't done enough for Irish tourism? Could have put a bit more effort into his charity work? These same people would be mightily unimpressed if Bono started knocking their accounting systems. As he sang in "Hold Me, Thrill Me, Kiss Me, Kill Me" in 1995, "They want you to be Jesus. They'll go down on one knee. But they'll want their money back if you're alive at 33".
But what was it they started him down this charitable path? Certainly, his early lyrics reveal him to have been a rather serious young man. But it was Geldof's Live Aid in 1985 that drew him towards the suffering in Africa.
I think it's best said by the man himself in the following section taken from the book; "Bono on Bono", Conversations with Michka Assayas, " (Hodder and Stoughton, London, 2005)
"Having got caught up in Live Aid, I said to Ali (Bono's wife); "I just can't get these people I'm seeing on television out of my head. We have to try and do something. In a quiet way". We didn't tell anyone we were going. We just went out, as it were, under the radar".
Bono and Ali Travelled to Ethiopia in September, 1985
"Myself an Ali worked on a program where you teach children through songs or one-act plays. It is still operating. I'm told. We would teach them the things they needed to know in order not to be sick. So I wrote songs and they were translated into Amharic. Somewhere, these songs exist, and one of the plays was about giving birth. We worked with the local nurse. Stuff like how to cut the umbilical cord. There were some bad practices. They would use cow dung, and things like that, which would cause infection. These people are a captive audience. The children would then go around singing these songs and so teach their parents. It was a three-week program; a song, a play, and a story, and then repeat. That's all we did there."
"The camp was about feeding, but myself and Ali were in charge of the orphanage. We slept in a tent. In the morning, as the mist would lift, we would see thousands of people walking in lines towards the camp, people who had been walking for great distances through the night – men, woman children, families who'd lost everything, taking a few possessions on a voyage to meet mercy. Some, as they got to the camp, would collapse. Some would leave their children at the gates, and some would leave dead children at the fences to be buried. There was barbed wire all around the camp. I aways thought this was so upsetting that we should have barbed wire. I thought the place looked like a concentration camp."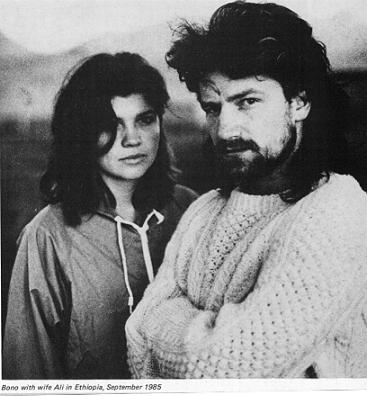 "Unlike concentration camps, it was to keep people out. It really brought home the problem. There was not enough to go around.
Wouldn't you steal food for your family? I would.
And again, these people are so royal, they're so elegant, so upright, these men and women.
To have their dignity robbed from them, to arrive at a feeding station where it's Auschwitz in reverse…"
"I do remember a man coming in with his child – his son. He was so clearly proud of his son. Giving me his son, and saying to me: "Please, take my boy, because if he stays with me, he will surely die. If he goes with you, he will live".
Having to say no, and having to turn away, is a very… very, very very hard thing to do. One part of me did, and you know, one part of me didn't. That's the part of me that still goes back there. It's a more than uneasy feeling. If you just put it into your own world, and think about your own child, and what it took for that man to say that, it's … bewildering… I don't think I can talk about this anymore. Let's change the subject."
In an article for the Sunday Mirror, May 18, 2003, by Maeve Quigley, titled "Bono and Ali..the showbiz marriage that is ROCK solid", Bono spoke once again about his altruistic "baptism".
"In November 1984 Bono and Adam sang on Band Aid's "Do They Know It's Christmas?" at the request of the former Boomtown Rats frontman and fellow Dubliner Bob Geldof.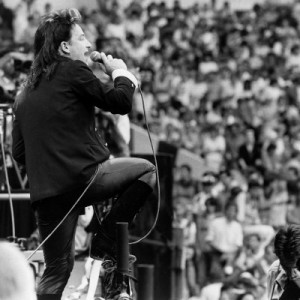 The rationale behind Geldof's efforts help the starving in Ethiopia with Band Aid and then Live Aid which had U2 on the bill in 1985 made Bono want to use his profile to try and help others like Bob had done. So Bono and Ali went to Ethiopia themselves in September 1985. He said: "After Live Aid I went to in Ethiopia. What I saw there changed my life". Since then Bono has raised the profile of various causes and spoken out against injustice in all areas of the world.
For the Jubilee 2000 campaign Bono teamed up with Bob Geldof and the pair have since helped set up a new organisation DATA – Debt, Aids, Trade Africa – to group together all the African campaigns Bono has been active on in the past.
He said: "People think musicians should stick with the music. I cringe when I see a celebrity with a cause – and I am one!"
"But when 2,500,000 people in Africa will die of Aids this year, we are not talking about a "cause" -we are talking about an emergency, a global humanitarian emergency."
"The facts about Aids blow your mind. They also break your heart."
He added: "Seventeen years ago, I came to Ethiopia on a wave of tears and compassion, flowing from the rich countries to the poor, from soccer stadiums taken over by musicians to refugee camps taken over by starving people in Ethiopia."
"The brilliant Bob Geldof taught me the importance of being focused, angry, persistent. We raised $200million and we thought we'd cracked it. It was a great moment, it was a great feeling."
"Am I bugging you? I don't mean to bug ya…"
Published in "The Independent on Sunday" 30th May, 2010
"Bono, agit-rocker extraordinaire, is well used to the snarky comments of those turned off by his grandstanding. "He's always been sanguine about it", says (Ali) Hewson. "He's always known, if you wanna get anything done you've got to stand in the firing line sometimes. He doesn't do it for the warm fuzzy feeling. He does it to actually bring some change about, and highlight issues that were being pushed under the carpet. And he does it very effectively. But," She adds, they both understand public fatigue at clebrity charity agitators. "Bono will say to you, 'I'm sick of being Bono, and I am Bono' ".
…To end this particular section of the post on a positive note about Africa, here's Bono at the Labour Party Conference, 2004; Brighton, UK – September 29, 2004;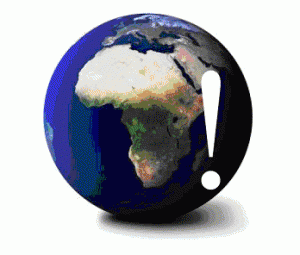 "Let me say this – Africa is a magical place. And anybody who ever gave anything there got a lot more back. A shining shining continent, with beautiful royal faces… Ethiopia not just blew my mind, it opened my mind."
Full transcript available here;
It's interesting to note that Bono walked the talk long before the age of NGO branded, E! News, good-will ambassadors. The experience clearly made a lasting impression – and whatever covenant he made with those Ethiopian people at the food camp, he's clearly tried to keep it through his ongoing commitment to international aid.
This new breed of celebrity statesman/woman appears to be relatively new concept in international politics. Our immersion in the global-age of media has helped to win huge constituencies for celebrities – who have the advantage of not having an electorate to answer to.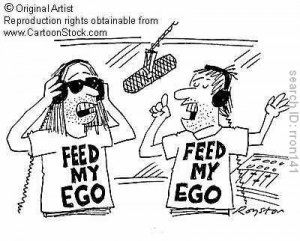 In my opinion, anything that successfully gains mainstream air-time for a noteworthy cause is worth it – especially when so much coverage on prime time news programs is wasted on the more vacuous aspects of celebrity culture. Once again – at least someone's doing it.
If not celebs – then who else can cut through? It'd be nice to think those suffering themselves will one day be empowered to tell us their own stories in an effort to get us to listen.
Or possibly, messages that come directly from aid workers themselves.
The UN, for all its excellent work, still has a rather dry public image – that seldom provokes. But when a super model or pop star gets roped in – a few colum inches are guaranteed.
Bono acknowledges the absurdity of the situation – but he didn't create our celebrity obsessed media culture.
Let's face it – it's rare for politicians to undertake expensive aid programs – without a convenient camera opportunity to spur them on. As distasteful as some may find it – this new breed of entertainer/politician is only going to become more common.
Perhaps this new political muscle is a good thing. Vast numbers of like-minded people across the world now have spokespeople, often with substantial influence, to promote urgent ecological, health, education and development issues. I may laugh at the efforts of guys like Craig David – but I don't really think he's cynical enough to see his role as a UN ambassador – as purely a marketing opportunity.
NGO's often lack the necessary PR skills to compete alongside juicier stories of fame and scandal – which are far easier to digest. So anything that raises awareness has got to be worth consideration.
I think it's still early days in terms of Bono's involvement in international development issues. He's just warming up. With U2 starting to wind down over the coming decade – I don't think Bono's going to back away from his political work. It'll be interesting to see where he ends up…
By the way, you can book Bono as your next after dinner speaker… Here's the link, and a selection of cheery topics to impress your guests.
A Lesson in Giving Back
In an impassioned speech that continues to inspire audiences, Bono speaks out about the devastating issues plaguing Africa and the difference that one voice can make.
Corporate Responsibility and Social Accountability
Bono encourages corporate executives to step outside their normal roles and consider larger issues to try and understand how they can more positively impact the world.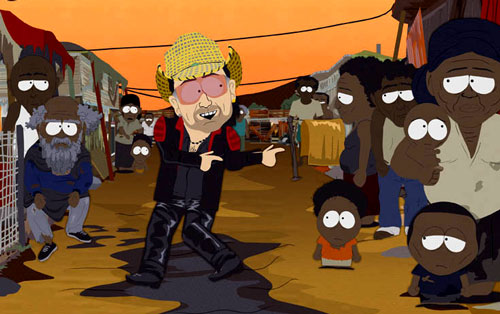 Quotes About Bono
"You have made people listen. You have made people care, and you have taught us that whether we are poor or prosperous, we have only one world to share. You have taught young people that they do have the power to change the world."
Kofi Annan, UN Secretary General, to Bono. (November 1999)
"For being shrewd about doing good, for rewiring politics and re-engineering justice, for making mercy smarter and hope strategic and then daring the rest of us to follow, Bono is Time's Person of the Year."
TIME Magazine (2005)
"Bono gives us a vision of how tomorrow can be better than today. He appeals to something greater than ourselves. He tells the story of his life and struggles in terms everyone can understand. He speaks about faith in a way that even a nonbeliever can embrace."
Jann S. Wenner in Rolling Stone magazine
"What's with the @#$%$ glasses Bono? He's an idiot and The Edge can't play guitar to save his life."
"toxonix" on boingboing.net (see full article here)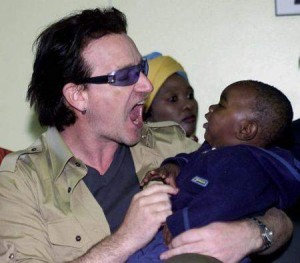 Transcript:
Bono remarks at the National Prayer Breakfast
Remarks — as prepared for delivery and courtesy of DATA.
By Bono to the National Prayer Breakfast; Feb. 2, 2006.
BONO: Thank you. Mr. President, First Lady, King Abdullah, Other heads of State, Members of Congress, distinguished guests …
Please join me in praying that I don't say something we'll all regret.
That was for the FCC. If you're wondering what I'm doing here, at a prayer breakfast, well, so am I. I'm certainly not here as a man of the cloth, unless that cloth is leather. It's certainly not because I'm a rock star. Which leaves one possible explanation: I'm here because I've got a messianic complex.
Yes, it's true. And for anyone who knows me, it's hardly a revelation.
Well, I'm the first to admit that there's something unnatural… something unseemly… about rock stars mounting the pulpit and preaching at presidents, and then disappearing to their villas in the South of France. Talk about a fish out of water. It was weird enough when Jesse Helms showed up at a U2 concert… but this is really weird, isn't it?
You know, one of the things I love about this country is its separation of church and state. Although I have to say: in inviting me here, both church and state have been separated from something else completely: their mind.
Mr. President, are you sure about this?
It's very humbling and I will try to keep my homily brief. But be warned—I'm Irish.
I'd like to talk about the laws of man, here in this city where those laws are written. And I'd like to talk about higher laws. It would be great to assume that the one serves the other; that the laws of man serve these higher laws… but of course, they don't always. And I presume that, in a sense, is why you're here.
I presume the reason for this gathering is that all of us here—Muslims, Jews, Christians—all are searching our souls for how to better serve our family, our community, our nation, our God.
I know I am. Searching, I mean. And that, I suppose, is what led me here, too.
Yes, it's odd, having a rock star here—but maybe it's odder for me than for you. You see, I avoided religious people most of my life. Maybe it had something to do with having a father who was Protestant and a mother who was Catholic in a country where the line between the two was, quite literally, a battle line. Where the line between church and state was… well, a little blurry, and hard to see.
I remember how my mother would bring us to chapel on Sundays… and my father used to wait outside. One of the things that I picked up from my father and my mother was the sense that religion often gets in the way of God.
For me, at least, it got in the way. Seeing what religious people, in the name of God, did to my native land… and in this country, seeing God's second-hand car salesmen on the cable TV channels, offering indulgences for cash… in fact, all over the world, seeing the self-righteousness roll down like a mighty stream from certain corners of the religious establishment…
I must confess, I changed the channel. I wanted my MTV.
Even though I was a believer.
Perhaps because I was a believer.
I was cynical… not about God, but about God's politics. (There you are, Jim.)
Then, in 1997, a couple of eccentric, septuagenarian British Christians went and ruined my shtick—my reproachfulness. They did it by describing the Millennium, the year 2000, as a Jubilee year, as an opportunity to cancel the chronic debts of the world's poorest people. They had the audacity to renew the Lord's call—and were joined by Pope John Paul II, who, from an Irish half-Catholic's point of view, may have had a more direct line to the Almighty.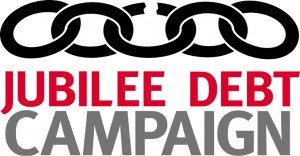 'Jubilee'—why 'Jubilee'?
What was this year of Jubilee, this year of our Lords favor?
I'd always read the Scriptures, even the obscure stuff. There it was in Leviticus (25:35)…
'If your brother becomes poor,' the Scriptures say, 'and cannot maintain himself… you shall maintain him… You shall not lend him your money at interest, not give him your food for profit.'
It is such an important idea, Jubilee, that Jesus begins his ministry with this. Jesus is a young man, he's met with the rabbis, impressed everyone, people are talking. The elders say, he's a clever guy, this Jesus, but he hasn't done much… yet. He hasn't spoken in public before…
When he does, is first words are from Isaiah: 'The Spirit of the Lord is upon me,' he says, 'because He has anointed me to preach good news to the poor.' And Jesus proclaims the year of the Lord's favour, the year of Jubilee. (Luke 4:18)
What he was really talking about was an era of grace—and we're still in it.
So fast-forward 2,000 years. That same thought, grace, was made incarnate—in a movement of all kinds of people. It wasn't a bless-me club… it wasn't a holy huddle. These religious guys were willing to get out in the streets, get their boots dirty, wave the placards, follow their convictions with actions… making it really hard for people like me to keep their distance. It was amazing. I almost started to like these church people.
But then my cynicism got another helping hand.
It was what Colin Powell, a five-star general, called the greatest W.M.D. of them all: a tiny little virus called A.I.D.S. And the religious community, in large part, missed it. The one's that didn't miss it could only see it as divine retribution for bad behaviour. Even on children… Even fastest growing group of HIV infections were married, faithful women.
Aha, there they go again! I thought to myself Judgmentalism is back!
But in truth, I was wrong again. The church was slow but the church got busy on this the leprosy of our age.
Love was on the move.
Mercy was on the move.
God was on the move.
Moving people of all kinds to work with others they had never met, never would have cared to meet… Conservative church groups hanging out with spokesmen for the gay community, all singing off the same hymn sheet on AIDS… Soccer moms and quarterbacks… hip-hop stars and country stars… This is what happens when God gets on the move: crazy stuff happens!
Popes were seen wearing sunglasses!
Jesse Helms was seen with a ghetto blaster!
Crazy stuff. Evidence of the spirit.
It was breathtaking. Literally. It stopped the world in its tracks.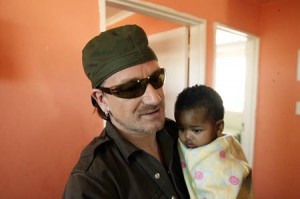 When churches started demonstrating on debt, governments listened—and acted. When churches starting organising, petitioning, and even—that most unholy of acts today, God forbid, lobbying… on AIDS and global health, governments listened—and acted. I'm here today in all humility to say: you changed minds; you changed policy; you changed the world. Look, whatever thoughts you have about God, who He is or if He exists, most will agree that if there is a God, He has a special place for the poor. In fact, the poor are where God lives.
Check Judaism. Check Islam. Check pretty much anyone.
I mean, God may well be with us in our mansions on the hill… I hope so. He may well be with us as in all manner of controversial stuff… maybe, maybe not… But the one thing we can all agree, all faiths and ideologies, is that God is with the vulnerable and poor.
God is in the slums, in the cardboard boxes where the poor play house… God is in the silence of a mother who has infected her child with a virus that will end both their lives… God is in the cries heard under the rubble of war… God is in the debris of wasted opportunity and lives, and God is with us if we are with them. "If you remove the yolk from your midst, the pointing of the finger and speaking wickedness, and if you give yourself to the hungry and satisfy the desire of the afflicted, then your light will rise in darkness and your gloom with become like midday and the Lord will continually guide you and satisfy your desire in scorched places"
It's not a coincidence that in the Scriptures, poverty is mentioned more than 2,100 times. It's not an accident. That's a lot of air time, 2,100 mentions.

You know, the only time Christ is judgmental is on the subject of the poor. 'As you have done it unto the least of these my brethren, you have done it unto me.' (Matthew 25:40). As I say, good news to the poor.
Here's some good news for the President. After 9-11 we were told America would have no time for the World's poor. America would be taken up with its own problems of safety. And it's true these are dangerous times, but America has not drawn the blinds and double-locked the doors.
In fact, you have double aid to Africa. You have tripled funding for global health. Mr. President, your emergency plan for AIDS relief and support for the Global Fund—you and Congress—have put 700,000 people onto life-saving anti-retroviral drugs and provided 8 million bed nets to protect children from malaria.
Outstanding human achievements. Counterintuitive. Historic. Be very, very proud.
But here's the bad news. From charity to justice, the good news is yet to come. There's is much more to do. There's a gigantic chasm between the scale of the emergency and the scale of the response.
And finally, it's not about charity after all, is it? It's about justice.
Let me repeat that: It's not about charity, it's about justice.
And that's too bad.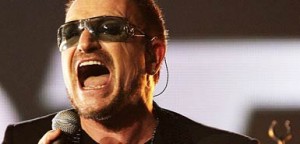 Because you're good at charity. Americans, like the Irish, are good at it. We like to give, and we give a lot, even those who can't afford it.
But justice is a higher standard. Africa makes a fool of our idea of justice; it makes a farce of our idea of equality. It mocks our pieties, it doubts our concern, it questions our commitment.
6,500 Africans are still dying every day of a preventable, treatable disease, for lack of drugs we can buy at any drugstore. This is not about charity, this is about Justice and Equality.
Because there's no way we can look at what's happening in Africa and, if we're honest, conclude that deep down, we really accept that Africans are equal to us. Anywhere else in the world, we wouldn't accept it. Look at what happened in South East Asia with the Tsunami. 150, 000 lives lost to that misnomer of all misnomers, "mother nature". In Africa, 150,000 lives are lost every month. A tsunami every month. And it's a completely avoidable catastrophe.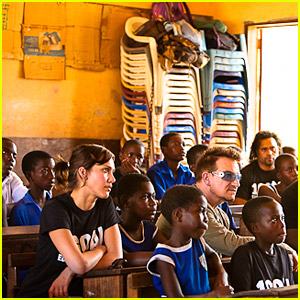 It's annoying but justice and equality are mates. Aren't they? Justice always wants to hang out with equality. And equality is a real pain.
You know, think of those Jewish sheep-herders going to meet the Pharaoh, mud on their shoes, and the Pharaoh says, "Equal?" A preposterous idea: rich and poor are equal? And they say, "Yeah, 'equal,' that's what it says here in this book. We're all made in the image of God." And eventually the Pharaoh says, "OK, I can accept that. I can accept the Jews—but not the blacks."
"Not the women. Not the gays. Not the Irish. No way, man."
So on we go with our journey of equality.
On we go in the pursuit of justice.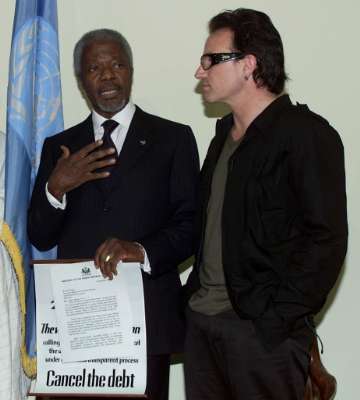 We hear that call in the ONE Campaign, a growing movement of more than two million Americans… left and right together… united in the belief that where you live should no longer determine whether you live.
We hear that call even more powerfully today, as we mourn the loss of Coretta Scott King—mother of a movement for equality, one that changed the world but is only just getting started.
These issues are as alive as they ever were; they just change shape and cross the seas.
Preventing the poorest of the poor from selling their products while we sing the virtues of the free market… that's a justice issue. Holding children to ransom for the debts of their grandparents… That's a justice issue.
Withholding life-saving medicines out of deference to the Office of Patents… that's a justice issue. And while the law is what we say it is, God is not silent on the subject.
That's why I say there's the law of the land… and then there is a higher standard. There's the law of the land, and we can hire experts to write them so they benefit us, so the laws say it's OK to protect our agriculture but it's not OK for African farmers to do the same, to earn a living?
As the laws of man are written, that's what they say.
God will not accept that.
Mine won't, at least. Will yours?
[pause]
I close this morning on … very… thin… ice.
This is a dangerous idea I've put on the table: my God vs. your God, their God vs. our God… vs. no God. It is very easy, in these times, to see religion as a force for division rather than unity.
And this is a town—Washington—that knows something of division.
But the reason I am here, and the reason I keep coming back to Washington, is because this is a town that is proving it can come together on behalf of what the Scriptures call the least of these.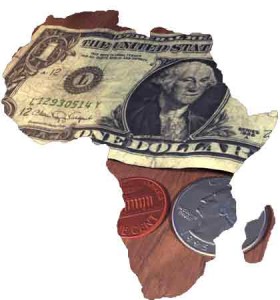 This is not a Republican idea. It is not a Democratic idea. It is not even, with all due respect, an American idea. Nor it is unique to any one faith.
Do to others as you would have them do to you.' (Luke 6:30) Jesus says that.
'Righteousness is this: that one should… give away wealth out of love for Him to the near of kin and the orphans and the needy and the wayfarer and the beggars and for the emancipation of the captives.' The Koran says that. (2.177)
Thus sayeth the Lord: 'Bring the homeless poor into the house, when you see the naked, cover him, then your light will break out like the dawn and your recovery will speedily spring fourth, then your Lord will be your rear guard.' The jewish scripture says that. Isaiah 58 again.
That is a powerful incentive: 'The Lord will watch your back.' Sounds like a good deal to me, right now.
A number of years ago, I met a wise man who changed my life. In countless ways, large and small, I was always seeking the Lord's blessing. I was saying, you know, I have a new song, look after it… I have a family, please look after them… I have this crazy idea…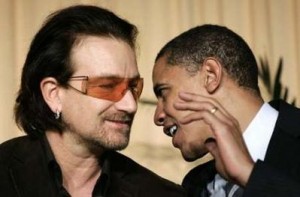 And this wise man said…
STOP
He said, stop asking God to bless what you're doing.
Get involved in what God is doing—because it's already blessed.
Well, God, as I said, is with the poor. That, I believe, is what God is doing.
And that is what He's calling us to do.
I was amazed when I first got to this country and I learned how much some churchgoers tithe. Up to ten percent of the family budget. Well, how does that compare the federal budget, the budget for the entire American family? How much of that goes to the poorest people in the world? Less than one percent.
Mr. President, Congress, people of faith, people of America:
I want to suggest to you today that you see the flow of effective foreign assistance as tithing…. Which, to be truly meaningful, will mean an additional one percent of the federal budget tithed to the poor.
What is one percent?
One percent is not merely a number on a balance sheet.
One percent is the girl in Africa who gets to go to school, thanks to you. One percent is the AIDS patient who gets her medicine, thanks to you. One percent is the African entrepreneur who can start a small family business thanks to you. One percent is not redecorating presidential palaces or money flowing down a rat hole. This one percent is digging waterholes to provide clean water.
One percent is a new partnership with Africa, not paternalism towards Africa, where increased assistance flows toward improved governance and initiatives with proven track records and away from boondoggles and white elephants of every description.
America gives less than one percent now. Were asking for an extra one percent to change the world. to transform millions of lives—but not just that and I say this to the military men now – to transform the way that they see us.
One percent is national security, enlightened economic self interest, and a better safer world rolled into one. Sounds to me that in this town of deals and compromises, one percent is the best bargain around.
These goals—clean water for all; school for every child; medicine for the afflicted, an end to extreme and senseless poverty—these are not just any goals; they are the Millennium Development goals, which this country supports. And they are more than that. They are the Beatitudes for a Globalised World.
Now, I'm very lucky. I don't have to sit on any budget committees. And I certainly don't have to sit where you do, Mr. President. I don't have to make the tough choices.
But I can tell you this:
To give one percent more is right. It's smart. And it's blessed.
There is a continent—Africa—being consumed by flames.
I truly believe that when the history books are written, our age will be remembered for three things: the war on terror, the digital revolution, and what we did—or did not to—to put the fire out in Africa.
History, like God, is watching what we do.
Thank you. Thank you, America, and God bless you all.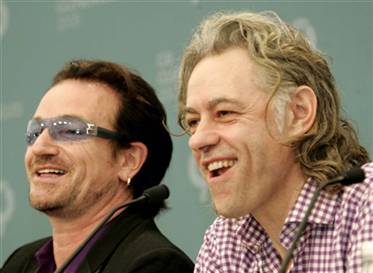 Further Bono quotes relating to poverty and aid;
"Eight million people die every year for the price of going out with your friends to the movies and buying an ice cream. Literally for about $30 a head per year, you could save 8 million lives. Isn't that extraordinary? Preventable disease – not calamity, not famine, nothing like that. Preventable disease – just for the lack of medicines. That is cheap, that is a bargain."
"Imagine if a third of the kids at your local primary school were AIDS orphans. That's a reality in Africa where the parents of 13 million children have been killed by AIDS."
"Preventing the poorest of the poor from selling their products while we sing the virtues of the free market, that's a justice issue. Holding children to ransom for the debts of their grandparents, that's a justice issue. Withholding life-saving medicines out of deference to the Office of Patents, that's a justice issue."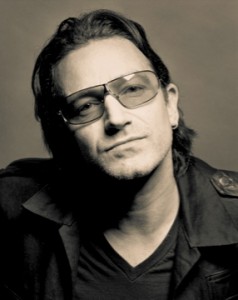 In this clip, Bono accepts the 2005 TED Prize with a riveting talk, arguing that aid to Africa isn't just another celebrity cause; it's a global emergency.
« The use of celebrity to promote aid: Part Two, Craig David Radio and Mobile Ph. Use in Kenya »